or: How to buy antique dolls
Generally speaking, an antique is an object over 100 years old, or in some cases, over 80 years old. For dolls, the definition has been stretched to around 80 years and over, which makes many collectible composition dolls antiques. Everything else up to the 90s or so is generally considered vintage. Some experienced antique doll dealers and auctioneers use the terms 18th century, 19th century, and 20th century to refer to various dolls from the era.
Let's focus on dolls from the 1930s and earlier to discuss some beginning tips for collecting antique dolls. As with all dolls, or all collectibles, for that matter, knowledge is everything. Familiarize yourself with as many antique dolls as you can.
Bookstores carry all kinds of books on dolls, even used bookstores or antiquarian bookstores. Study dolls online at places that sell them. Use old catalogs as research tools, too. Newsletters and magazines about dolls abound, and vintage examples are sold online, too.
On your travels or within your hometown, visit antique shops and doll dealers and ask questions. Many dealers are happy to talk about and share their passion with doll collectors who are eager to learn. People are among the most fantastic resources of all. Look for old advertisements on dolls as well as the dolls themselves. Visit museums and historical societies, as well as doll museums.
When you are ready to buy, do a little research and most importantly, follow your heart, and buy something you love:
Small bisque dolls are out there for under $100. Japanese bisque dolls marked Nippon and Japan can cost around $5 each, even less. "Frozen" dolls or penny dolls make a charming collection. Antique folk dolls made of cornhusks, apples, nuts, and shells intrigue some collectors. These are still affordable, but many, especially Black folk dolls with nut heads, have increased in value.
Antique wooden penny doll
Wax over papier-mache and composition dolls are fun to collect and study. German papier-mache heads, wooden penny woodens, homemade cloth dolls, and German metal heads are collectible and interesting. So are china heads in the low brow or flat top style.
German bisque dolls by Armand Marseilles, especially the 390 and 370 molds are "gateway" antique dolls to more high-end models. French bisque dolls by UNIS, Verlingue, Lanternier, and later companies can be lovely and often have wonderful costumes.
Armand Marseilles 370 mold doll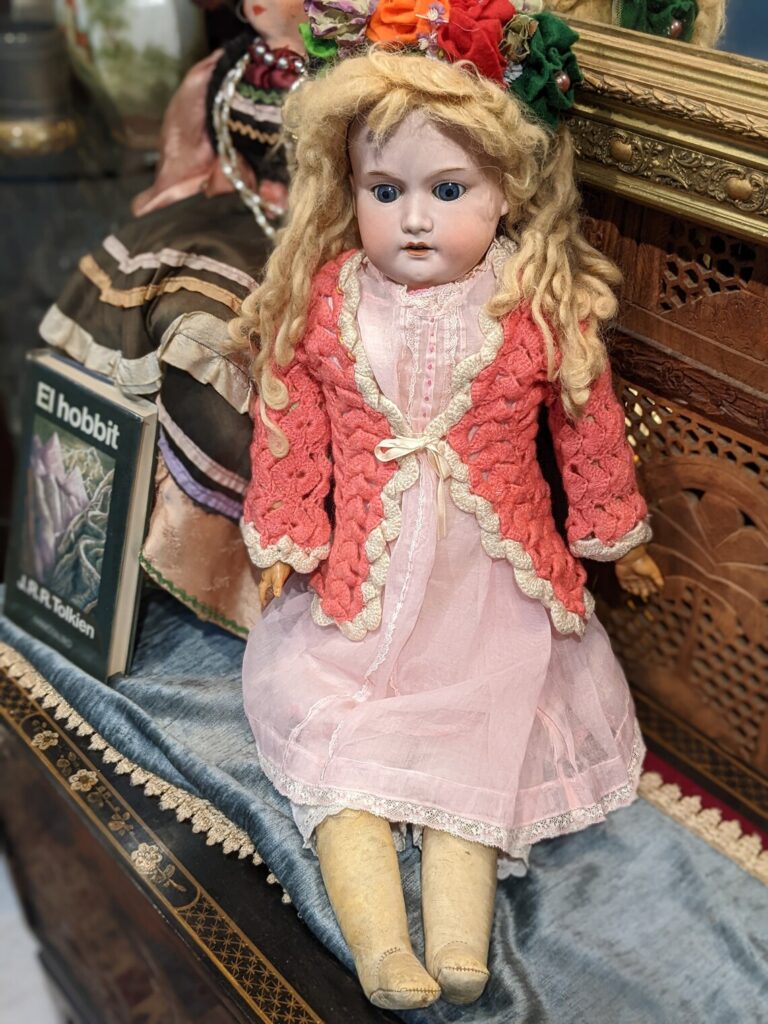 Antique paper dolls are plentiful still, and advertising paper dolls are fun and colorful. Home Made examples inspire some, while others like to collect early examples from the funny pages.
Always try to buy the best you can; look for appropriately old or original costumes and shoes. Do it if you can get a doll in its original box or package. If a doll is expensive, or you are unclear about what it is, politely ask the dealer if you can undress it, or if the dealer can show you the marks.
At the end of the day, collecting antique dolls is FUN! Lead with your heart, follow your instincts, and enjoy the process of learning – antique dolls teach history and culture. They bring mind folks together and can be a lifelong source of enjoyment.
Source: https://www.rubylane.com/blog/categories/dolls/a-beginners-guide-to-buying-antique-dolls/