or: Heinrich Stier, the talented spy or manager of puppet production?
Heinrich Stir was born in Sonenberg in 1814 in the family of a bossier. At the age of 34, he went to America, hoping to get rich, and opened a tobacco shop. He had enough to live on, and even managed to make a capital. But then he decided to abandon the tobacco business and invest in the construction of a doll factory in the New World. He was tormented by the idea of copying and selling wax dolls, which at that time were produced in England and were insanely popular.
Time passed, but things didn't work. It was not possible to create a recipe for a wax doll. After collecting the rest of the money, Heinrich Stir goes to England. There he gets a job at a factory in London that produces wax dolls (Montanari) and carefully records all the production processes. So he becomes the first spy in the toy industry. Stir returns to America, and he and his partner begin to make wax dolls, of excellent quality, but they are not bought. Everyone needs imported English. "There is no prophet in his own country" – this is how Stir described this situation in his memoirs.
Stir decides to return to Germany. And very timely. He gets to the London exhibition and brings back a Chinese or Japanese doll, which was later copied by many manufacturers in Germany and France. But Stir had an advantage: he ALREADY knew how to process wax, while the rest had to learn. He succeeded very quickly and became number one in the quality and quantity of dolls produced.
Once he accidentally dropped a thimble into a vat of wax, Stir fished it out, the wax hardened beautifully on the surface. Eureka! Thus, a new way of waxing doll heads was born …
German 1880s Patent Washable papier mache doll face
A couple of decades ago, Andreas Voight tried waxing paper-mâché heads, but the result was not encouraging. The idea has died. But Stir managed to achieve perfect smoothness and evenness in this way. The heads turned out to be very beautiful. His dolls were finally appreciated in the New World and in France they were also in demand.
He opened the factory in 1852. His first wax-coated Tauflings were covered with the pink ground, and almost immediately he invented sleeping eyes (patent), in 1857 the dolls received the "mom dad" voice mechanism from the same Japanese-Chinese doll.
An advertisement from 1860 contains a description of what was produced at the factory. The document was written in English and was a description of samples for shops in London: metal guns, pistols, swords, collapsible docks, doll heads and bodies disassembled for assembly upon arrival, and heads of dolls of different sizes, and different quality. From budget to expensive, with mohair hair and glass eyes, black dolls, articulated lady dolls, leather bodies, feeding dolls, shooters, lancers, Turks, harlequins, ladies and girls in hats, with baskets, babies with open mouths, wax babies and so on.
As you can see, the range is extremely wide and varied.
German wax over paper mache doll in original costume
In 1868, he brought to the market waxed dolls that surpassed all known ones in beauty.
In 1871 he left the production to his brother Gustav Stir and moved to Coburg. 1878 after retirement, he invents a top coat that makes heads resistant to low and high temperatures. He passes on the secret of this varnish to his nephew, Barbara's son, Ferdinand. Since 1878, dolls have been produced at the factory according to a secret family recipe. Dolls have the effect of human skin, are resistant to low and high temperatures, and do not crumble. They can endure washing with water. Dolls are from 20 cm to 1 meter in height and their price is from 5 to 220 marks per dozen (wholesale price). They are exported to countries with different climatic conditions. Delivered to North and South America, England, Australia, Austria, Switzerland, and France.
In passing, before retiring, in 1871 he founded for his sister, the widow, Barbara Schilling, a factory and a large shop for Wax Tauflings. All dolls produced and sold by Barbara were patented and imitations were prosecuted (article from 1878). In 1879, a trademark (angel) was registered for paper-mâché, rubber, wax, and composite toys. The factory employed about 100 people, plus home workers from other towns in the area.
In the photo is a doll from the collection of Olga Ruchkina. The doll is of the highest quality and has a completely non-German type of face, more like Jumeau. Papier mache in wax.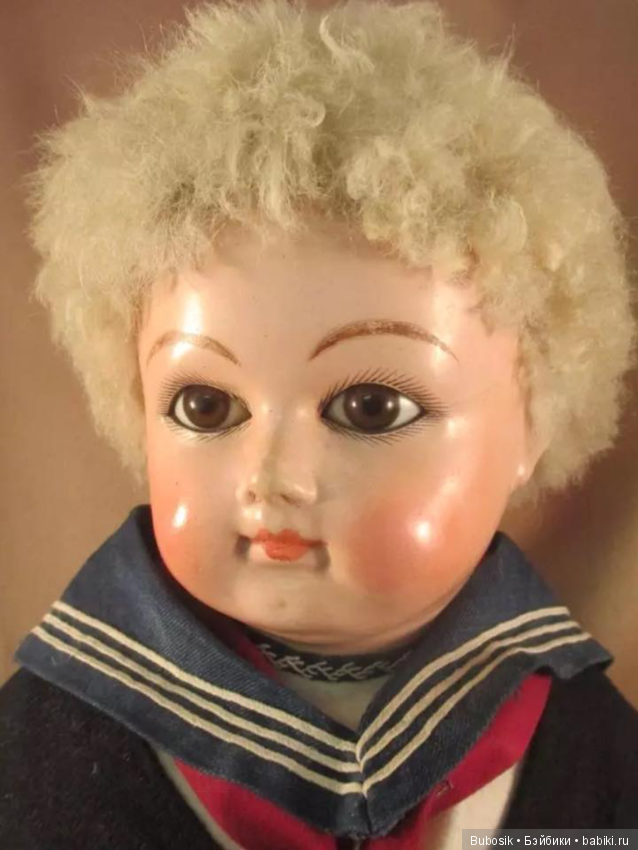 He died on January 24, 1888. The newspaper Sonnenberger Zeitung published an obituary, where he noted his great contribution to the development of the German toy industry. Adolf Fleischmann in his notes noted him as a person who achieved wealth with his work and talents in a short period of 15 years.
Source: https://babiki.ru/blog/interesnoe-antikvarki/151783.html